Versions Compared
changes.mady.by.user rob
Saved on
compared with
changes.mady.by.user rob
Saved on
Key
This line was added.

This line was removed.

Formatting was changed.
In sommige situaties wil je een uitgave kunnen verrekenen met een factuur of creditnota van dezelfde relatie. 
Uitgaven met status 'Definitief' of 'Deels voldaan' kunnen worden verrekend met een Factuur van hetzelfde contact.
We geven nu een voorbeeld van een uitgave welke we van een leverancier hebben ontvangen en welke we zelf een factuur hebben gestuurd, voor door ons geleverde producten.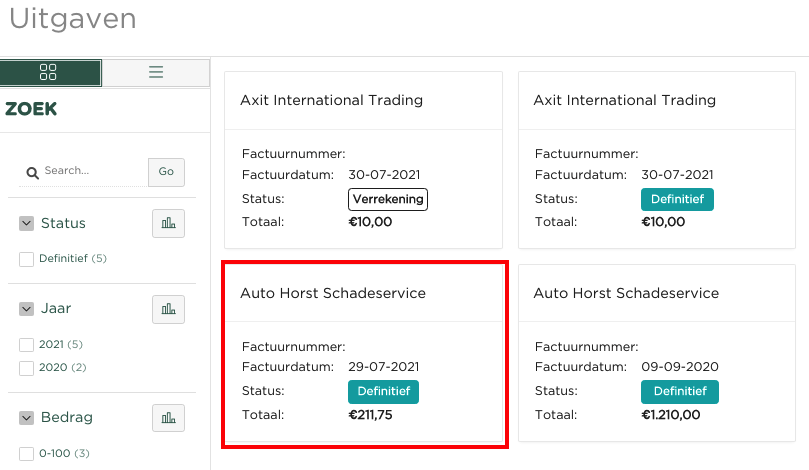 Als we nu kijk in het overzicht Facturen, dan zien we dat we hetzelfde contact 'Auto Horst Schadeservice' een factuur hebben gestuurd.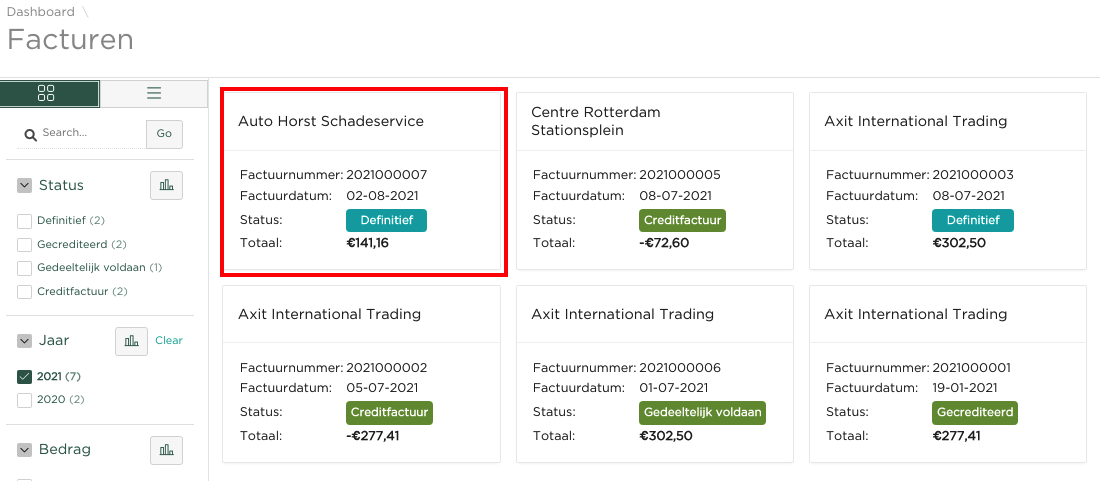 We hebben met het betreffende contact gecommuniceerd en deze is akkoord met het (deels) verrekenen van onze factuur met de door hem aan ons gestuurde factuur (Uitgave).
We openen nu de uitgave en drukken op

We selecteren nu onder Betaalmethode - Verrekenen en vervolgens selecteren we onder Verrekenen met de betreffende uitgave (in dit voorbeeld 20210000001 a €130,-)
Nu drukken we op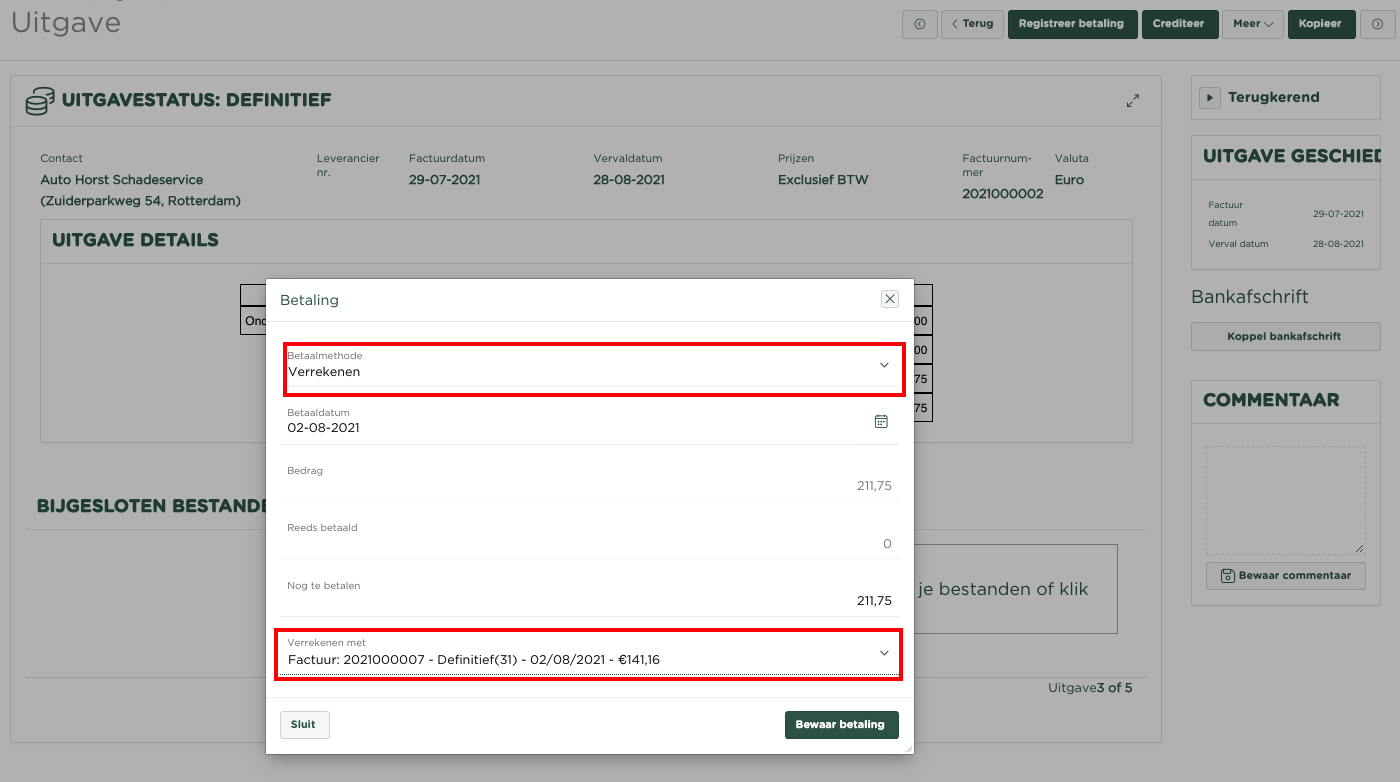 De status van de uitgave wordt nu 'Gedeeltelijk voldaan' en onder Uitgave geschiedenis wordt nu getoond welke betalingen er al zijn gedaan en welke bedrag nog moet worden voldaan.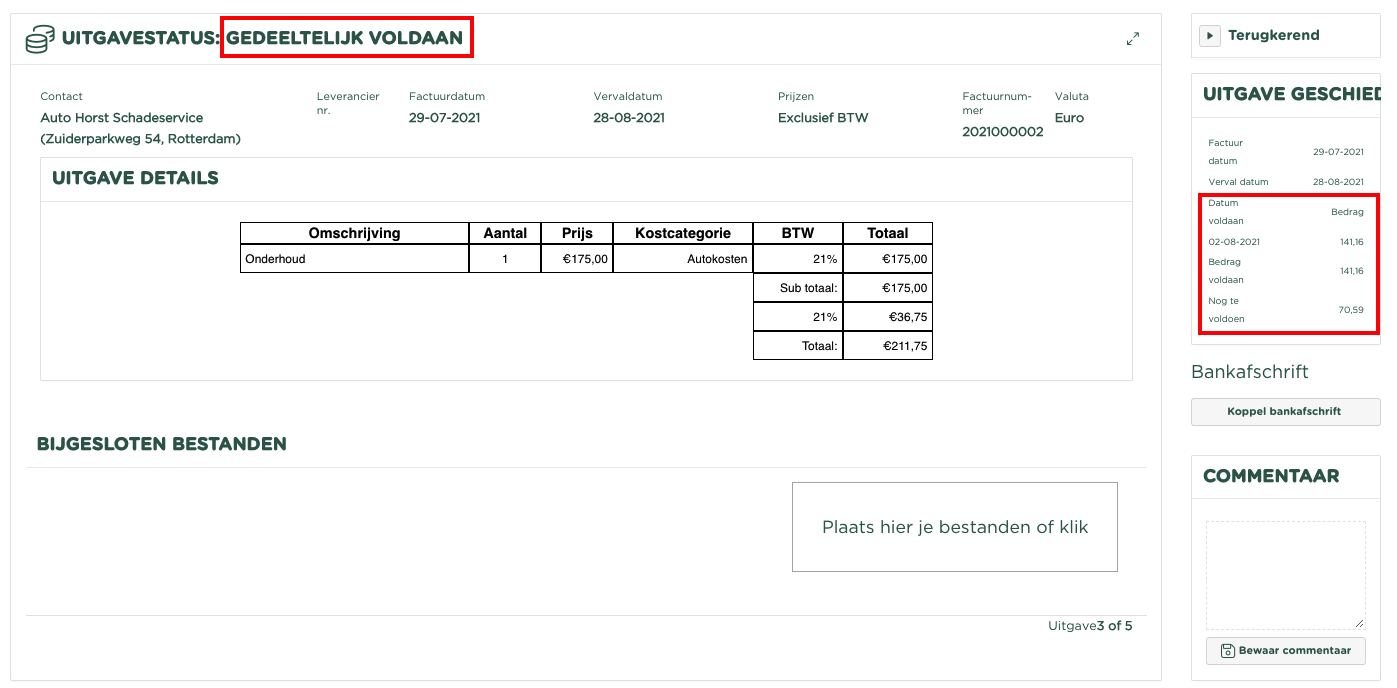 Image Added
Related articles
Content by Label
| | |
| --- | --- |
| showLabels | false |
| max | 5 |
| spaces | YOUR |
| showSpace | false |
| sort | modified |
| reverse | true |
| type | page |
| cql | label = "facturen" and type = "page" and space = "YOUR" |
| labels | facturen |
Step-by-step guide
Related articles
Content by Label
| | |
| --- | --- |
| showLabels | false |
| max | 5 |
| spaces | YOUR |
| showSpace | false |
| sort | modified |
| reverse | true |
| type | page |
| cql | label = "uitgaven" and type = "page" and space = "YOUR" |
| labels | uitgaven |