Veel ondernemers hebben te maken met het fysiek leveren van producten. In deze situatie zal je de levering vergezeld willen laten gaan met een Pakbon, waarop de geleverde producten worden vermeld, plus het verzoek om te controleren of alle vermelde producten daadwerkelijk zijn geleverd.
We kunnen zo'n pakbon samenstellen binnen Yoursminc door een extra ontwerp te creëren (Diverse – Voorkeuren – Extra ontwerp).
...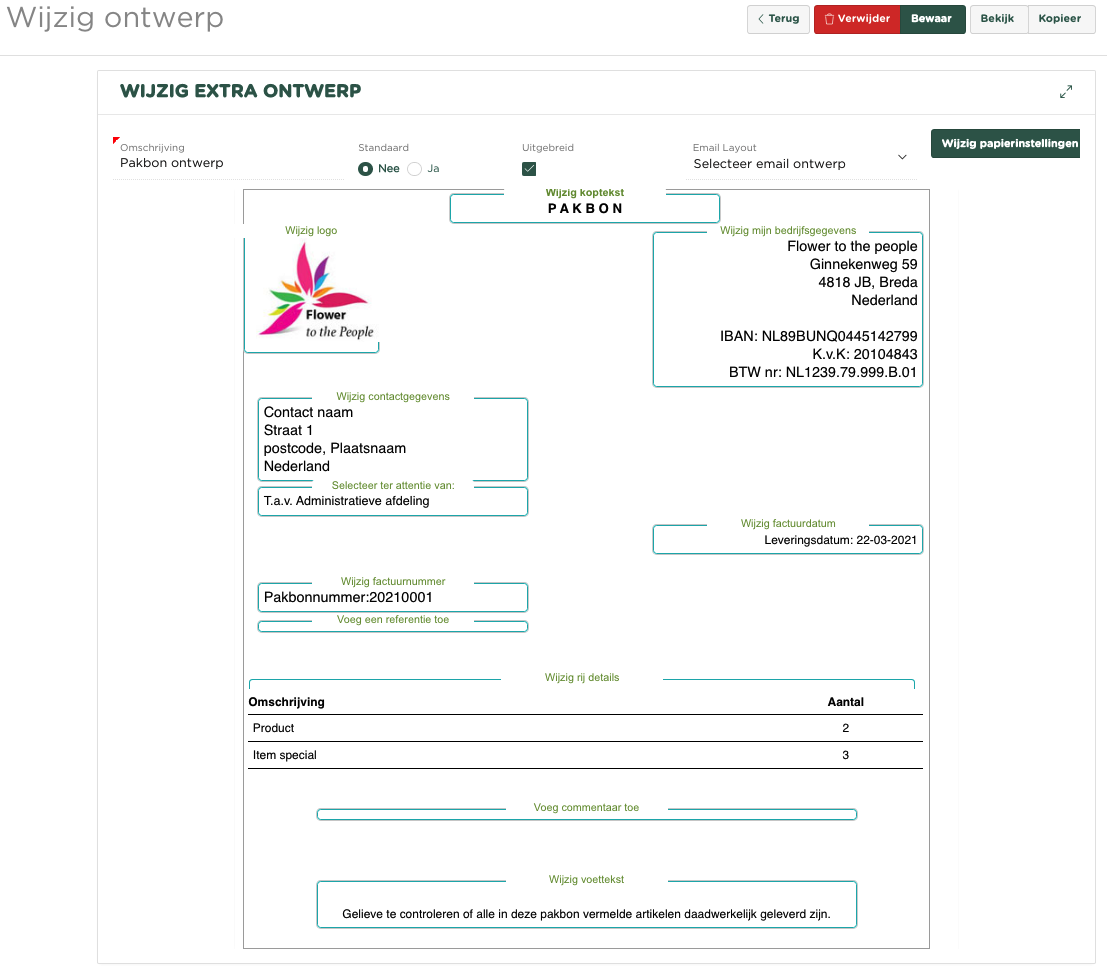 Image Added
Als we nu de factuur selecteren, waarmee de geleverde producten zijn gefactureerd kunnen we aan de rechterzijde van de pagina het zojuist gecreëerde Extra ontwerp kiezen.
Image Modified
Door nu te klikken op de knop [Bekijk extra ontwerp] krijgen we het afdrukvoorbeeld van de (in dit voorbeeld) pakbon te zien.
Image Modified
In bovenstaand voorbeeld zien we hoe de pakbon er zal uitzien en kunnen we kiezen tussen het afdrukken of bewaren van de pakbon op onze PC.
In ons voorbeeld hebben we ervoor gekozen om de pakbon af te drukken:
Image Modified
Related articles
Content by Label
| | |
| --- | --- |
| showLabels | false |
| max | 5 |
| spaces | YOUR |
| showSpace | false |
| sort | modified |
| reverse | true |
| type | page |
| cql | label = "pakbon" and type = "page" and space = "YOUR" |
| labels | pakbon |
...